Click HOME if slideshow does not appear below
Welcome to my web site. Here you will find all works created by me using various programs and techniques. All graphic artwork was created using Adobe Creative Suite. Photos taken were from a variety of cameras all made by Canon. Models I used are the Canon D-60, Canon 35mm SLR and Canon 300HS. Videos were shot with the Canon HV20 and edited with Adobe Premiere Elements, Premiere Pro and Pinnacle Studio 12 and 14.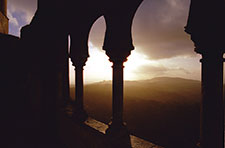 This photo was taken at the Palace of Penya in Portugal using my Canon 35mm SLR in the month of November, 2002. I used a Canon negative scanner which is SCSI based and won't work on newer computers. It's slow, but is very good as you can see. I was not happy with the photo processing company that put this on a CD because the sky was washed out. I had 8 x 10's printed and they were washed out too. Sometimes, you have to do things yourself to get the best results. The only touch-up I did was to remove dust specs from the negative using Photoshop 7.